2300
Details
The ETERNITY is a middle A glider with optimized performance weight. The light wing is offering an enormous safety cushion with a sportive handling. That turns him into a perfect all-round talent for every adventure. Not only beginners will enjoy the ETERNITY - the mistake forgiving behavior will definitely bring sustainable flight fun for ambitioned XC pilots and alpinists as well.
The new LTF A class wing was designed under the hard criteria of uncompromising passive safety and still the exact handling should not be cut short. Therefore the ETERNITY offers an easy start for students when first flying high, as well as extended fun moments for experienced pilots. The ETERNITY transforms control pulses precisely and combines A class appropriate tolerance with dynamics. The sweet-tempered flying behavior is encouraged through the light weight of the canopy among other things. The reactions are therefore subdued accordingly. The markedly outstanding glide- and rise ability is especially coming into effect in weak thermal lift and efficiently turns that into height. During the development especially much attention was paid to an easy start behavior. Through a multitude of constructive optimizations these were perfected. Particularly in difficult conditions the ETERNITY simplifies the start to every pilot. The light canopy rises reliably, even at zero wind with little effort required, over the pilot. Additionally the exceptional slow flight features of the wing are causing a low take off speed and much control time during the start.

The ETERNITY offers safety with optimized performance weight. It is not only aimed at beginners, who want to start with small pack size and little weight, but the modern wing also guarantees sustainable fun for ambitioned pilots. The size XL additionally has the tandem certification and therefore offers a light alternative for the double flight fun with matchless direct handling.

The ETERNITY is available in 3 attractive color combinations and in six LTF A certified sizes from XS (60-80 kgs) up to XL (120-150 kg / with tandem certification).
Technical Specs
More Information

| | |
| --- | --- |
| Brand | UTurn |
| Specs | |
| Material | In the material mix also only high tech materials which meet the high expectation of the long term endurance were used. So selectively used material strengths of the top materials Dokdo 30 and 20 as well as Skytex 27 offer the optimized performance weight with very high durability and form fidelity. The used light material with double coating is clearly superior in the matter of porosity in comparison to heavy materials. That is now also confirmed by long term results and disproves the myth according to which heavier materials achieve better check results. |
Colors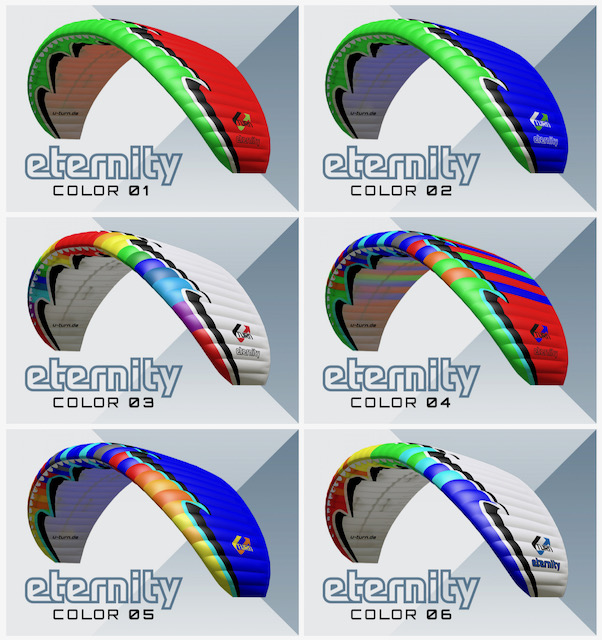 Availability